Back to School – Make Your Own ABC Book!
It's nearly fall and children are going back to school.  Whether you homeschool or your children attend public or private school, you may enjoy doing this activity with your preschool or kindergarten student.

At ages 4 and 5, children should still be playing a lot of the time, so learning should be casual and informal. If your child shows an interest in learning the alphabet, you can teach the letters in many different ways. You might post a large letter on the wall or refrigerator (one at a time) and talk about its name and sound at random times during the day. You can read ABC books together.  You can point out words for objects that begin with a specific letter.
Your child might also enjoy making his/her own ABC book. This is a fun activity for your preschool or kindergarten students that can help them begin to recognize letters and learn letter names. Teach just one letter at a time.  It really does not matter at this age whether you teach a letter every couple of days or one a week. Let your child's interest be your guide.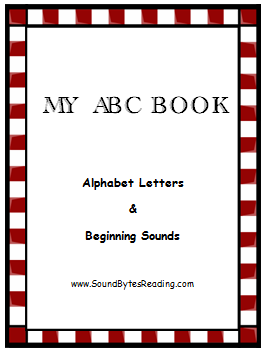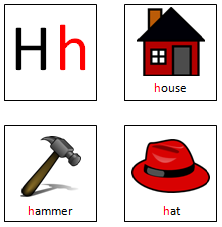 Your child will need to be able to cut reasonably straight lines with scissors first.  Then he/she will be able to do this activity with just a little guidance from you. Use plain white cardstock or typing paper for each page and bind it when you complete the project—or purchase an inexpensive spiral notebook to paste the letters and pictures into. Give your child the pictures for just one letter.  Ask her to cut out each picture for the letter she is learning. Show her how to paste the letters and pictures onto the paper. It doesn't need to look perfect. Use a glue stick rather than liquid glue. Young children may find it easier to use a glue stick that looks purple when applied, but dries clear, so they can see where they have put the glue.
Here's where you can get your FREE Cut & Paste ABC Book from Sound Bytes Reading: