Featured Book—Creature Count: A Prehistoric Rhyme
Children are often fascinated by dinosaurs and love to read books about them.  My friend, Brenda Huante, has written an imaginative book that your children will love.  This book is beautifully written and illustrated.  If your children enjoy wonderful stories, this is a great read-aloud that will be well-loved and it is a book that your children will ask you to read over and over again.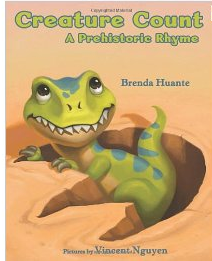 This summary is quoted from the book description at Amazon Books:
Set to the classic counting rhyme "Over in the Meadow," Brenda Huante's catchy text makes a perfect read-aloud, and illustrator Vincent Nguyen's adorable dinosaurs and early mammals are simply irresistible.   
Amazon Link:   http://amzn.to/XC5e0l