Winter Art and Descriptive Writing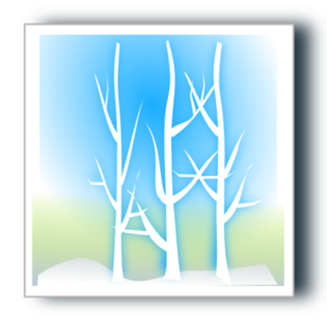 Here's a great way to inspire your kids to write—connect a creative art project to a descriptive writing assignment! Students will enjoy creating a work of art and then writing a little bit about it. 
Make the picture first. For the picture, start with an 8 x 10 piece of cardstock.  Use color pencils to wash the paper in shades of blue and green or even purple and pink.  Then take a piece of plain white paper and use scissors to cut out some tree branches.  Children can try to cut a tree shape in a single piece—or they can cut lots of long and short pieces.  
Next, use a glue stick to glue the pieces onto your colored paper to make a tree and its branches.  Imperfect shapes will work best, just as tree branches are not uniformly shaped. If you want mounds of snow, cut mounded shapes out of your white paper and add them to the picture.
This is a project that kids of all ages can do.  You will need to do the paper cutting for 3-4 year-olds, but they can learn to use a glue stick at this age with some help.  Most children at this age will not be able to write yet, so the younger set may only be creating the picture. Some might be able to copy the letter "S" onto their paper.
Next is the writing assignment. Some preschoolers with good small motor skills might be able to copy the word "SNOW" to label their picture.  5-6 year-olds may be able to write a sentence or two if they are beginning to read and write, and you can help them by writing out the sentence they dictate and then letting them copy the words onto their own paper. Older students may write an entire paragraph or more without help.
A few weeks ago I wrote about learning to describe what you hear, see, smell, taste, or touch—and writing about each of the senses in a separate assignment. That exercise will help your students learn how to describe things in writing. You can print out the graphic organizer from the blog that follows that one here:  Helping Students Think About Descriptive Writing.
Time to do a fun winter art project and write about it!